18 Feb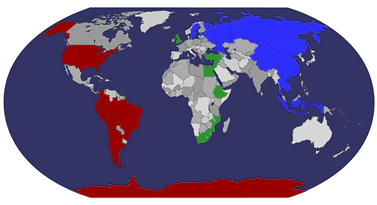 Between August, 2007 and January, 2009, I wandered through 28 countries on 6 continents. While my blogging efforts quickly fell by the wayside, I stayed true to my inner shutterbug, snapping about 30,000 photos, uploading about 15,000 travel photos to Flickr. I also posted about 400 short updates via Twitter. Now that I'm back in the United States, and done hopping cities every few days, I'm hoping to recap some of the highlights (and there were many) of my trip here on GoBigMike.
In this entry I hope to provide an overview of the whole trip, to answer the "So, where have you been?" question. I'll also mention a few of the highlights from the experiences I had on this epic journey, but further detail will be reserved for future country-specific summaries.
 Click above map for interactive version (clickable cities, scroll right for path)
The maps above give you a snapshot of my trip and path. Lots of lines, right? The path could have been more cohesive if I was more certain when I started that I'd carry on for as long as I did. But before this trip, I had never traveled for more than 3 weeks at a time, never been to non-Western locales, and never slept in a hostel. Committing to an 18-month march, with specific flights and dates seemed too aggressive for my tastes. Weather was also a major path plotting consideration: I wanted to avoid deep winter & brutal summer as much as possible. After many months of idle plotting, I decided to break my trip into 3 major legs, of roughly 4-6 months each.
Before breaking down the three legs, let's pause for some geeky statistics & factoids for my overall trip:
Distances traveled (approximate) by:

Air: 70,000 miles/112,000 km (48 flights)
Rail: 4,660 miles/7,500 km (5,800 km on the Trans-Mongolian route across Russia)
Road: 14,100 miles/22,600 km  (11,000 km in buses from southern to northern tips of S. America)

For reference, the circumference of Earth at the Equator is 24,000 miles (40,000 km).

Ends of the Earth:

Northernmost point: St. Petersburg, Russia (59° 55′)
Southernmost point: Antarctic sound, Antarctica (65° 15′)
Highest altitude: Gokyo Ri, Nepal (17,575 ft/5357 m)
Southernmost city in the world (Ushuaia, Argentina); Highest City in the world (Litang, China); good views of the highest mountain on Earth (Everest), and in South America (Aconcagua). Many other world's highests/largests/deepests/whateverests.
And now without further ado, the three legs of my Big Wander: 1) Asia, the long way around, 2) South America and 3) Middle East & Africa.
Leg 1: Asia, via Europe
Traveling to Asia from Los Angeles via Europe is certainly the long way around, but I had long been interested in visiting Russia, and more specifically in riding the Trans-Siberian railroad. So I  started the first leg of my trip in Sweden in early August, 2007, and made my way from over to Bali, Indonesia, 6 months later, in mid-January 2008.
Countries visited:

Sweden
Estonia
Russia
Mongolia
China
Nepal
Thailand
Vietnam
Laos
Cambodia
Indonesia
Selected highlights, in no order:
trekking in Nepal with my father
St. Petersburg, Russia
road-trip through Tibetan region around Litang (China)
Angkor temples (Cambodia)
beaches of Thailand, snorkelling around Krabi
small village experiences in Mongolia, China, Laos, Cambodia
food in Thailand, Laos, & Cambodia
4 separate adventures with friends from home
Leg 2: South America (plus Antarctica & USA)
Carnival in Rio de Janeiro made an obvious (and awesome) starting point for my trip to South America. I then quickly dipped to the southern tip of the continent (and beyond, to Antarctica), and then made my way up to the northern tip, making the entire journey by bus. Fortunately I wasn't on the same bus the whole route, and I was able to get out and enjoy these great countries. I was in South America from February through July, 2008. In August & September I paused in the United States, to restock, "refuel", and recharge, while deciding whether to continue my adventure.
Countries visited:

Brazil
Argentina
Antarctica (not strictly a country)
Chile
Bolivia
Peru
Ecuador
Colombia
USA
Selected highlights, in no order:
South America from bottom to top by bus
Carnival in Rio de Janeiro
Lopes Mendes beach (Ilha Grande, Brazil)
Iguazu falls
Antarctica
Machu Picchu
mountains in Patagonia (Torres del Paine & El Chalten)
southwestern Bolivia (Salar de Uyuni & beyond)
mountains around Huaraz, Peru
coffee region (Zona Cafetera), Colombia
Colombia's Caribbean coast (Cartagena, diving, Tayrona)
steak, wine & ice cream in Argentina, seafood in Peru, icy beer in Brazil
chatting with locals in Spanish
Burning Man festival (USA)
3 adventures with friends from home, & making lots of new friends
 My photos from South America & Antarctica
Leg 3: Middle East & Africa
A year was my original plan for this six-continent adventure. Then Asia & South America both kept me longer than I originally planned: I had already been on the road for 12 months when I returned to the USA. And I was a little travel-weary from the near constant moving and sensory overload of amazing experiences. So I decided to pause for some recharging and reflection in the "friendly confines" before carrying on to more exotic locales. I nearly decided to end my trip as planned, but in the end decided I really wanted to travel more now, and to visit a few places in the Middle East & Africa, before settling down.
Weather and a few logistics problems caused me to abandon an original itinerary starting in East Africa and working north to Turkey. Instead, I planned to start in Turkey in early October, 2008, and work my way South to Egypt, and then return home in time for Christmas.  Fortunately I found my second wind for travel, and decided to extend my stay in Africa an additional six weeks, so I was able to visit southern Africa as well, before returning to the USA in late January, 2009. Several of my top memories for the entire 18-month trip happened in the final few weeks in southern Africa.
Countries visited:

Turkey
Syria
Jordan
Egypt
Ethiopia
South Africa
Mozambique
United Kingdom (London, en route)
Selected highlights, in no order:
Petra ruins, Jordan
Cappadocia (Turkey)
White Desert (Egypt)
scuba diving in the Red Sea (Egypt)
history around every turn (Middle East)
local foods in Turkey, Syria, Jordan & Egypt
small village trekking on the Meket Escarpment (Ethiopia)
minarets, mosques, & kind Muslims throughout Mid-East
swimming with whale sharks (Mozambique)
Istanbul, Turkey & Cape Town, South Africa
adventures with 3 friends from home
My photos from the Middle East & Africa
What's next?
Several frequently asked questions have emerged in the few weeks that I've been back. I don't have fully-baked answers for all of them yet, but here's what I've got so far:
What was your favorite place?
This one is especially tough for me to answer, and it's the most common question. How do you pick one place out of the amazing places I've seen? The easiest answers are probably "Antarctica", and "the Himalayas with my Dad", because they're crowd pleasers. But I honestly don't have a favorite place. Recalling every place on the lists above made me smile, and those lists leave out many other great experiences.
Did people hate you because you're American?
No, not at all. People are generally good at separating individuals from nations. Not once did a local person harass, berate, belittle or otherwise malign me because of my nationality. And no, I didn't play the stupid "Oh me, no, I'm from Canada, eh?" game. I always answered honestly, and the most I usually got was "Welcome! Americans good people, bad President.", which was certainly hard to argue with. Even in very remote parts of the world people were very aware of the US elections, and interested in its outcome and impact on our collective futures.
What did you learn?
I didn't undertake this trip in search of great enlightenment, or expecting to discover the secrets of life. I ended up learning a lot about geography, a little about history & religion, and a bit about people. A few modest themes I observed:

You don't need much to be happy. People with very little are frequently happier than those who have everything.
Our world is big, and filled with beautiful places & people. 18 months barely scratched the surface.
It's pretty easy to travel nearly anywhere now, if you can speak English (and are flexible). Get out and explore!
Babies are cute everywhere.

You've seen everything! What's left?
Hardly! I could easily go back to even the smallest countries I visited and have another month's worth of great new experiences. And then there are the other 160 or so countries that I haven't been to yet… I could easily put together an amazing itinerary to span another 5-7 years or so.
Are you done yet?
Yes, I'm done.  Wandering from place to place every few days was amazing, and I hope to do it again (and again?). But for now I'm finished doing that. Then again, the economy sucks, and there are some really good travel deals out there…
What's it like to be back?
It feels pretty normal. I'm having sticker-shock at the prices in Los Angeles. And the inundation with marketing messages and consumerism is a bit overwhelming. But for now I'm happy to be back in the United States for a while, mostly because I have awesome friends here.
What are you doing next? AKA When are you going to get a job?
The answer to this question is still very much a work in progress. I don't yet know what I want to do when I grow up! Midway through my trip I was convinced that I didn't want to return to technology management or Internet work when I finished. But I've reconsidered, and am leaning toward knocking the rust off of my technical skills. Or at least seeing if it's possible. I'm not interested in setting up an apartment and plopping down for a 9-to-5 job just yet, so I'm planning to do some consulting and help some friends with some ideas. If my brain rejects this return to technology, I'll pick something new to do. My travels through the mountains and deserts reminded me that I love rocks and how the Earth works; maybe I'll become a geologist some day?

Also, after 16 years of living in greater Los Angeles, I'm interested in trying out some new places. I'm planning to spend a few months living in a few places I've enjoyed in my travels, and see if one of them feels more like Home than LA does. I'll be starting with Austin, Texas, in March, 2009. Serious candidates after Austin include Chicago, Buenos Aires, and Cape Town. It's an evolving list.
So that's the basic trip recap. It was an amazing 18 months, and I don't regret for a second my decision to spend my time and money this way. Highly recommended!
In future entries I plan to provide country-specific recaps, and additional summaries on gear, logistics, and more.  Please feel free to ask questions in the comments.